Bleatings from EnviRambo.





Yesterday I ran across an interesting tidbit about Bank of America. Did you know they have a coal policy? A coal policy. Why in the world would a bank need a coal policy? As America's largest retail bank, Bank of America lends out a lot of money! A lot of money to profitable businesses, like energy companies, who get their power from coal. As any successful business, they realize opportunities for future growth and future profits. Let's just say Bank of America is seeing a whole new kind of green.

Some excerpts from their website:
Bank of America believes we can be both sustainable and profitable, and we want to play a role in helping to lead the way into this new, sustainable and profitable era.

The primary driver of our environmental commitment is the potential for profit and economic growth, and today those powerful motivators are manifested throughout our organization:

The changes necessary to achieve this goal require capital and resources, areas where Bank of America can play a productive - and profitable - role.

And, as a corporation, we are taking full advantage of the business opportunities created by "green" economic growth.
With their new commitment to "green"
(being whichever definition you choose)
Bank of America has zeroed in on coal. Specifically, the extraction of coal known as mountain top removal.
"Bank of America is particularly concerned about surface mining conducted through mountain top removal in locations such as central Appalachia. We therefore will phase out financing of companies whose predominant method of extracting coal is through mountain top removal. While we acknowledge that surface mining is economically efficient and creates jobs, it can be conducted in a way that minimizes environmental impacts in certain geographies."
Bank of America is currently involved with eight of the U.S.'s top mountain top removal coal-mining operators, which collectively produce more than 250 million tons of coal each year.
Don't know what mountain top removal is? It's this:

According to Wikipedia,
Mountaintop removal mining
(
MTR
), often referred to inside the
mining
industry as mountaintop mining/valley fills (MTM/VF), is a form of
surface mining
that involves an extreme
topographic
change to the
summit
or summit ridge of a mountain. It is most closely associated with
coal mining
in the
Appalachian Mountains
, located in the eastern
United States
. The process involves using explosives to remove up to 1,000 vertical feet of
overburden
to gain access to underlying seams of coal. The resulting debris is often scraped into the adjacent drainage valleys in what is called a
valley fill
.
Think your not affected? Think again. Even if you do not live in the Eastern United States your power company may be buying coal that comes from the mines using mountain top removal.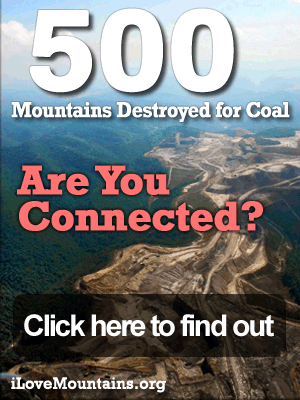 You can read more about Bank of America's environmental initiatives
here
. Or,
download their full coal policy
; it is only one page long. Definitely go to
iLoveMountains
to learn more about mountain top removal and what you can do about it. You can also read Green Bean's post
Forgotten Forest
.
What ever people's motivation is for jumping on the green bandwagon, we are going to need all the help we can get. I certainly am all for saving/making a buck if it means making a step towards sustainability. So until that cart looks like a clown car I say climb aboard.