Regular guest poster, Jess, muses on the importance of buying local. Jess blogs at Sweet Eventide.
Yesterday I was walking along the main street in my town which is home to many independent businesses. I have several favorites that I visit regularly and
one of them
had a flyer in the window which I had not noticed before.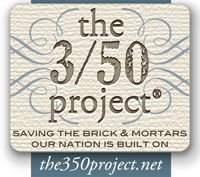 The 3/50 Project
is not to be confused with
350.org
, and the International Climate Action Day coming tomorrow, October 24th. The flyer caught my attention right away with the question: "What three independently owned businesses would you miss if they disappeared?"
This was way too easy for me to answer, as directly across the street, one of my
other
favorite businesses is in the process of shutting down. The flyer continues, "Stop in. Say hello. Pick up something that brings a smile. Your purchases are what keeps those businesses around." But the big sign in the window across the street makes it all too clear that
Good Sage
with its lovely offerings is not going to be around much longer.
Which brings us to the 50 part: apparently if half of the employed population spent $50 a month in locally owned businesses, it would generate upwards of $42 billion. "How many times," I wondered, "have I wandered into Good Sage and said hello?" Many times. "How many times did I spend $50?" Not many.
There is where the hard part comes in. Like many families, I am watching our family's pennies as best as I can. Living on one income in a high-cost-of-living area is a challenge. But Green Bean got me thinking with her post
about great ways to spend money
. It turns out that spending a little to keep a local business alive is definitely one of the great ways to spend.
Granted, I loved almost every product in Good Sage, but everything always seemed "out of my budget." So instead I spent almost nothing when a more moderate approach could have worked. Maybe buying a pair of their lovely colored tapers regularly would have helped, even if I couldn't afford one of their gorgeous wool rugs. When I do spend, I am very conscious about it. I sincerely struggle over it and most of our spending is on high-quality food. But somehow giving me a number to focus on makes it easier. Surely I can divert $50 a month to something I believe in so deeply.
For example, I haven't purchased books in years upon years. They got filed under "extremely indulgent" in my mind somehow. "Why buy when I have the library?" is a common line of thinking. There is a
darling independent bookstore
down the street from Good Sage that recently opened its doors. I am now determined to let a few more books into my family's budget. Even if the 3/50 project is too late to help
B.K. and Susanne
, hopefully it's not too late to help
Diane and Lauren
.