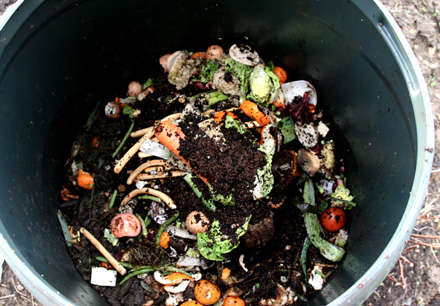 Eco-novice seeks easy, foolproof method of composting.
Dear Boothers,
Help me out. I really want to compost. I feel guilt every time I toss watermelon rinds and carrot peelings in the trash. But I'm having trouble jumping in and trying it. Here are my issues:
There are multiple methods. Which one is the best for me? Note that I have actually ruled out worms because a couple of my friends tried that method and it seemed like a lot of work.
If it takes too much time, I will fail. I know, because I watched two tomato plants die over the summer simply because I didn't water them. (In case you are concerned, my husband is in charge of watering our new tree.)
I have a toddler. A crazy, gets-into-everything, I-cannot-control-her toddler. I need to be able to let her roam somewhat unsupervised in the backyard or I will lose my mind. We are also hoping to get a dog. I cannot have an amorphous pile of compost that my toddler or future dog will get into.
I'm scared of attracting vermin. I've had ants, cockroaches, fruit flies, and rats. There are also plenty of stray cats and dogs in my neighborhood that I would like to stay off my property.
I am completely willing to drop $100 to $200 on a compost bin if it will solve all my problems and make all my composting dreams come true. But I'm scared I'll buy a bin, and it won't work all that well, or won't make composting easy-peasy enough, and then I won't use it, and then I'll have a big hunk of plastic in my backyard and a lot of eco-guilt.
So, Readers, here is what I would love from you. If you compost, please share with me how you do it! I would love to know:
What do you think is the easiest, least time-consuming, most foolproof method of composting?
How do you compost? Do you use any special equipment?
How did you learn how to compost? How long did it take you to figure out the method and make it work for you?
Is it toddler-proof and dog-proof?
What are you able to compost?
How long do you spend on composting each week?
Do you have to have multiple batches and how long does it take a batch to reach completion?
What are the pros and cons of your method? What are the biggest challenges, if any, you face with composting?
If you had to set up your composting system again from scratch, would you do it differently?
Have you had any problems with vermin? Why not?
What are your favorite resources (websites, blogs, etc.) for composting information?
OK, you don't have to answer
all
of those questions, but any advice you would like to offer would be much appreciated. If you have a post about how you compost, feel free to leave your link in the comments. I would love for this post to serve as a useful compilation of composting tips and testimonials.
Thank you!
Sincerely,
Eco-novice, an aspirational composter